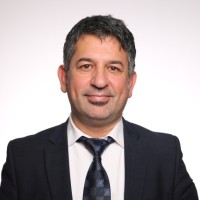 Prof.Dr. Özcan Asilkan
Leuphana University Lüneburg
Lüneburg, Germany
Keynote Title: "Digital Transformation"
Abstract: Are you ready for Digital Transformation? Do you really know where to start, how to proceed and manage the change? There is no longer any doubt about whether the businesses should realize the digital transformation. Any business that wants to survive or increase profitability in today's highly competitive marketplace must definitely go digital to satisfy the increasing expectations of its customers.The main concern for digital transformation should be how correct and efficient to realize it.
Performing a right digital transformation is crucial for all organizations. Researches show that most of them fail the transformation when they primarily focus on IT investment. In fact, digital transformation is a complete transition that affects all areas of a business. It must start with a thorough understanding of the philosophy of digitalization and continue with modification of the current business plans to a new digital business model. When done right, it modifies the way organization works along with significant changes. That requires a thorough understanding of change management. Companies doing the digital transformation in the right way will be surviving and becoming more profitable while others will be disappointed.
This keynote will present the core issues on digital transformation to understand it better and implement successfully.
Bio: Prof. Dr. Özcan Asilkan is an experienced professor and computer engineer with a demonstrated academic and professional experience in universities and industry. His research interests focus on Computer Science, Management Information Systems, Database Systems, Data Mining, Machine Learning, Health Informatics and Hospitality. With more than 20 years of academic and business expertise, he has held many engagements throughout the world like Turkey, Germany, North Cyprus, Albania, North Macedonia, etc. As computer engineer, he worked at various positions like System Analyst, Database Administrator, Application Developer and Consultant. As academic, he founded and chaired the departments of Computer Engineering and Management Information Systems in various universities. He chaired several international conferences and took part as Keynote speaker in several others. In addition to his native tongue (Turkish), he also knows fluent English and intermediate German. From 2019 to 2020 he worked as the Dean of the Faculty of Computer Science and IT at Metropolitan University of Tirana in Albania. Since September 2020, Prof. Asilkan has been working as Research Fellow at the Institute of Information Systems of Leuphana University Lüneburg in Germany.
Prof. Dr. Jozef COLPAERT
Faculty of Social SciencesAntwerp School of Education & Department of Training and Education Sciences
Stadscampus – Room S.Ve35.404
Venusstraat 35
2000 Antwerpen – Belgium
Editor-in-chief of Computer Assisted Language Learning
---
Keynote Title: "Designing Language Tasks for Acceptance, Identification and Self-Regulation: the Role of Autonomy."
Abstract: In recent years, task-based language teaching (TBLT) has become a relevant and predominant movement in language teaching worldwide, with its own theory, organization and conference. This presentation begins with the observation that TBLT does not significantly account for the impact of psychological-motivational factors. The recent Erasmus + project TeCoLa (www.tecola.eu) aimed to develop a task design model for telecollaboration with a special focus on acceptance, identification and self-regulation in the minds of the students. The TeCoLa task design model is based on the following axes or parameters: pedagogical-didactic fit, activity type (Tell, Interact, Do and Make), task result (nil, affect, effect or artifact) and autonomy type (in terms of degrees of freedom).
Subsequent doctoral research and master's theses indicate – surprisingly – that autonomy is perhaps the most important factor in this interplay of motivational elements. When the appropriate degrees of freedom are provided in accordance with the actual context and profile of the learner, mental acceptance of the task will increase significantly. Conversely, activity type and outcome seem to affect motivation much less than expected.
The presenter's line of research now focuses on separating the didactic-linguistic layer from the motivational layer in the task design model. The best possible didactic approach can fail if the psychological layer is neglected.
This presentation will conclude with some concrete guidelines and suggestions for researchers in applied linguistics and for language teachers worldwide.
Biography: Jozef Colpaert is editor-in-chief of Computer Assisted Language Learning (Taylor and Francis). He teaches Instructional Design, Educational Technology and Computer Assisted Language Learning at the University of Antwerp (Belgium). His is currently working on the theoretical and empirical validation of Educational Engineering, an innovating design model. His research interests include motivational task design, contextualization, transdisciplinarity, natural language decoding and multimodal learning environments.
He has been organizing the International CALL Research Conferences since 2002 (www.call2022.org). He started the LinkedIn Groups Computer Assisted Language Learning (2,762 members) and INEC (International Network of Editors in CALL).
He teaches and presents in English, Dutch, French and Spanish. He is a frequently invited speaker and a provocative but entertaining keynote that makes people think.
Dr. Elton Domnori
Metropolitan University of Tirana
Tirana, Albania
Keynote Title: "From IR to AI: The Evolution of an Intelligent Search"
Abstract: The Web has already become an immense and scaring forest of information where everyone could easily get lost. With its 1.3 billion active websites (January 2021), it is the biggest data container that the world could ever build. Looking for some information it could be like search a needle in haystack. Web-based search engines have become indispensable to us to reach information from sites we could never be aware of their existence. The use of keyword-based approach made them attractive for the user. As long as the Web was mainly made of web pages and text document, Information Retrieval techniques were adopted to create a match between the user intention (expressed through e set of keywords) and the document content. With the enrichment of the diversity of the Web content and its openness to non-expert users, search engines started facing a great challenge such as understanding the user intention by just observing, a small in number, set of query-keywords. Rather than "word" matching the new objective turned into "intention" matching. Innovative techniques such as Ontologies and Knowledge Based Systems were introduced from to make the web search more intelligent and be able to integrate data from different sources in a unique and comprehensive way. Machine learning techniques were introduced to improve the precision and the recall of the search algorithms by tuning the system parameters according to the user profile, region, etc. The future of the search is two answer very specific questions, by using a natural language of communication with the end user exploiting this immense knowledge found in the web.
Bio: Dr. Elton Domnori concluded his PhD studies in 2012 at the University of Modena and Reggio Emilia, Italy. Currently he is working at the Metropolitan Tirana University (Albania) and holds the position of Head of Computer Engineering Department. His research interests are focused mainly on Search Engines over structured and semi-structured data (such as XML and RDF) and in particular on their optimization. The optimization covers the two main aspects such as efficiency, aiming the improvement of the time that the algorithms take to run the top-k solution, and the effectiveness aiming the improvement the precision of the result set. In November 2015 he joined COST Action IC1302 KEYSTONE (semantic KEYword-based Search on sTructured data sOurcEs) representing Albania as a Near Neighbor country. Moreover, his interest includes distributed systems and in particular multi-agent systems for distributed coordination systems. Formerly he was a member of the AgentGruop research group at the "Università di Modena e Reggio Emilia", led by Prof. Letizia Leonardi. The recent search activity is focused on the management of territorial emergencies using the agent software technology. He has developed two frameworks Keymantic, a semantic search engine over relational data and Ubimedic2, a multi-agent framework that manages the collaboration and coordination issues during catastrophic or emergency events.