10th Cyprus International Conference on Educational Research (CYICER 2021)

——————————————————-
IMPORTANT ANNOUNMENT!
Dear Participant

First of all, thank you very much for your abstract submission. According to the new decision taken by our committee, the 10th International Cyprus Educational Research Conference (CYICER 2021), which was planned to be held in Arucad University (venue), Kyrenia, Cyprus between June 17-19 in this year, has been canceled due to the negative experiences and the number of participants. In addition, in line with the opinions of the participants, it was not deemed appropriate to hold our conference online.

It will not be held due to the decisions taken by the Turkish Republic of Northern Cyprus due to the pandemic policies and the difficulties experienced by the participants who came to the island.
e.g.: people who don't have two vaccinations have to stay in quarantine for 10 days.

For this reason, our conference has been postponed to June 2022.

See you next year at our face-to-face conference.

Best regards
——————————————————-
You may publish your article on a journal indexed by

ERIC

, Scopus or Web of Science (ESCI) following a review process and by paying an additional registration fee. For more information…
Selected papers will be published in Supporting or other Journals: Clarivate Analytics

Web of Science

 (

SSCI

, 

SCI-Expanded

, 

ESCI

)or SCOPUS. 
The Remain accepted full papers will be published as proceedings"New Trends and Issues Proceedings on Humanities and Social Sciences" (www.prosoc.eu)  (Indexed in Web of Science) and also submitted to SCOPUS and Clarivate Analytics Conference Proceedings Citation Index – CPCI (ISI Web of Science) for evaluation for inclusion in the list. For more information…
In addition, distinguished keynote speakers who are internationally renowned in the field will be giving presentations at the conference. 
Abstracts must be written in English, and can be sent as an email attach to cyicer.info@gmail.com
All proposals will be subjected to peer-reviews.
Best Papers and Posters Awards
Online Participation Opportunities
Participation Certificate
Coffee Breaks
Entrance to all Workshops
Online Abstracts Book
Hope to meet you in next year.
Start here to submit a abstract to this conference.
STEP ONE OF THE SUBMISSION PROCESS

8th Cyprus International Conference on Educational Research, (CYICER-2019), 13-15 June 2019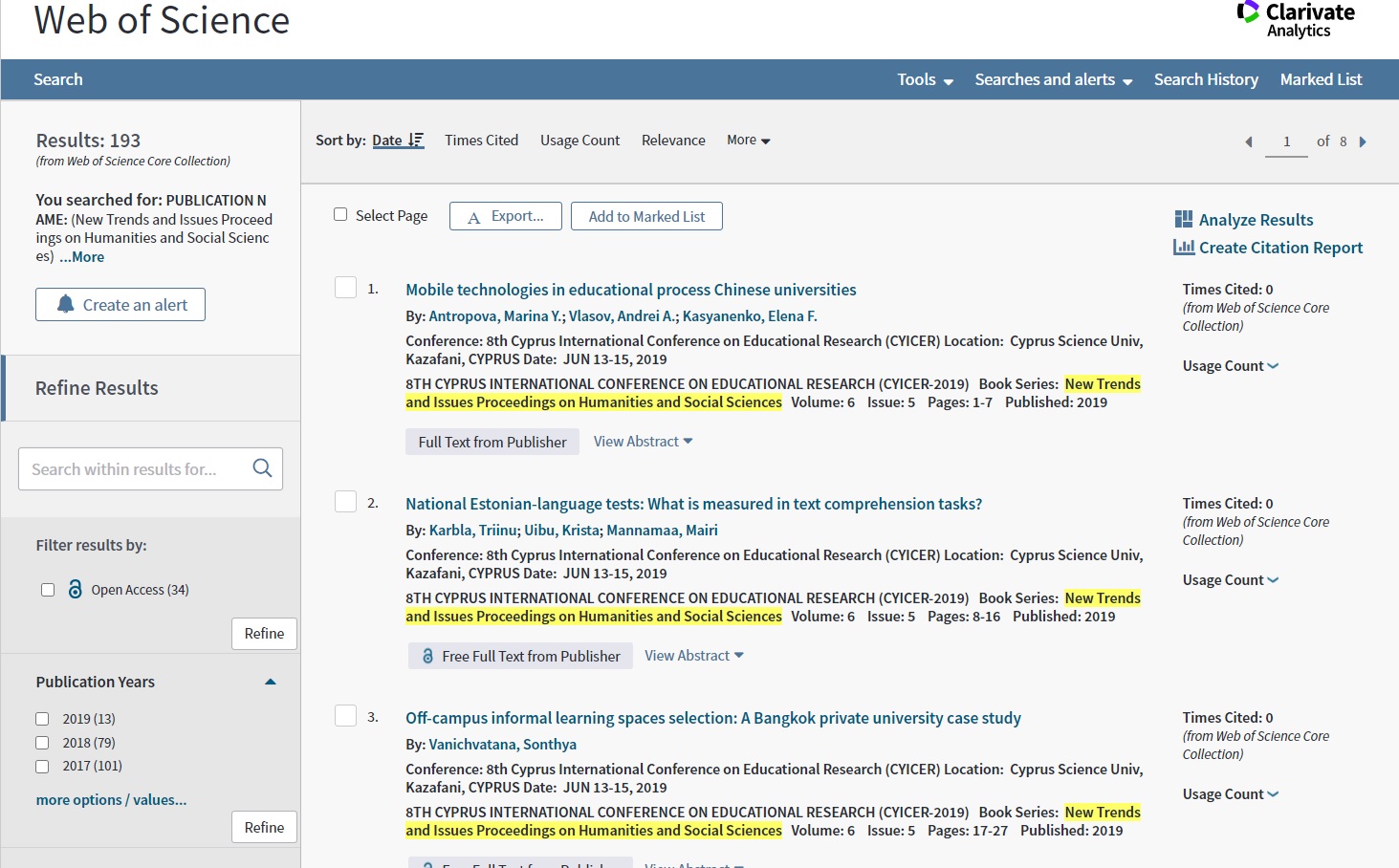 ---
6th Cyprus International Conference on Educational Research – 2016
3rd Cyprus International Conference on Educational Research – 2014
30 January – 01 February 2014 – Cyprus
2nd Cyprus International Conference on Educational Research – 2013
14 – 16 February 2013 – Cyprus